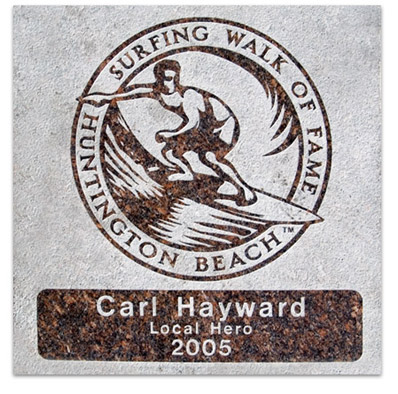 O.C. SURFERS INTO THE HALL OF FAME
by Corky Carroll
Also to be inducted this year is Huntington Beach's own Carl Hayward. Carl was one of the most popular surfers ever here in Surf City. He passed away this year on the afternoon of Jan 21 while surfing next to the pier of a brain aneurysm. Friends have said that nobody loved to surf anymore than Carl Hayward and it was only fitting that he died doing exactly that.

Carl was known is the surfing world both as a skilled surfer and a world class surfboard shaper and designer. He moved with his family from Providence, R.I. to Huntington Beach when he was 13 years old. There, he taught himself to surf and to shape surfboards.
A graduate of Edison High School he went to work for Sunline Surfboards and later Carl Hayward Surfboards in 1977. His most noted accomplishment being his renowned "Rocket Fish" design. This was a variation of the original "twin fin" design; a surfboard style that is starting to become popular once again.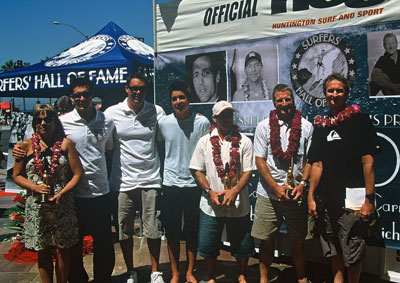 Colleen, Matt, Chris & Shaun at the Hall of Fame ceremony.
His store later moved to San Clemente when redevelopment in downtown Huntington Beach put the rents out of the reach for the small surf shop owner. Carl Hayward Surfboards became the Carl Hayward Surf Company. Eventually Carl teamed up with his good friend Bob Hurley and went to work for the booming Hurley International, one of the most successful surf wear endeavors ever.
His life was surfing. His skills where known world wide, from Cloudbreak in Fiji to Tamarindo in Costa Rica to the famous North Shore of Hawaii, surfers knew his name. Tall and lanky he was also one of the fastest surfboard paddlers of his time.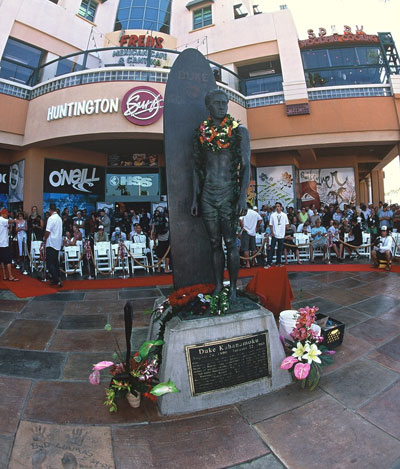 Carl was also a dedicated family man. His first priority in life was his wife Colleen and their children. He had his sons on boards by the age of 3. He was known as extremely generous and was one of those dudes who always had a good word to say. I like those kind; somewhat a rare breed in the surfing world of today.